About Us
Tuli is a Indian takeaway in Basingstoke. Why don't you try our Keema Nan or Tikka Masala?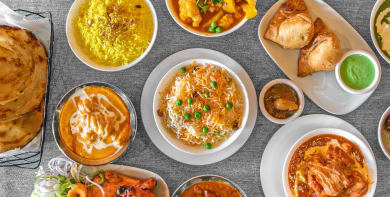 Reviews
100 reviews
Alison
"The food arrived really quickly and was hot which really makes a difference. All meals were lovely and would definitely recommend"
03/06/2021
Dan
"Tuli scrumptious!"
01/05/2021
Daniel
"Amazing great food yum !"
17/04/2021
Daniel
"Great food love it 😃😃😃😃😃"
01/04/2021
Menu
Onion Bhajee
Sliced onion mixed with gram flour, egg & herbs, deep fried
£3.95
Tandoori Chicken Starter
Spring chicken on the bone
£5.10
Sheek Kebab
Minced lamb fillet marinated in eastern spices and herbs, barbecued on a skewer, served with salad
£4.95
Shamee Kebab
Marinated minced lamb shallow fried & served with an omelette
£4.95
Reshmi Kebab Starter
Marinated minced lamb shallow fried & served with an omelette
£5.10
Mixed Kebab
A mixture of shame & sheek kebab with an onion bhajee
£5.95
Samosa Fish
Triangular shaped savoury filled with spiced minced meat, vegetables or fish
£4.50
Samosa Meat
Triangular shaped savoury filled with spiced minced meat, vegetables or fish
£4.50
Samosa Vegetable
Triangular shaped savoury filled with spiced minced meat, vegetables or fish
£4.50
Pakura Chicken
Fried pieces of chicken or vegetables served with salad and mint sauce
£3.95
Pakura Vegetable
Fried pieces of chicken or vegetables served with salad and mint sauce
£3.95
Bhuna Prawn Puree
Medium spiced prawns served with puff bread
£5.25
Garlic King Prawns
King prawns pan fried with fresh garlic & onions
£6.50
King Prawn Butterfly
King prawns marinated with exotic spices and fried in butter
£6.95
Chicken Chat
Medium spiced barbecued chicken pieces served with puff bread
£4.95
Prawn Cocktail
Prawns served with own special cocktail sauce
£4.50
Shashlick Main Chicken
Boneless tender chicken or lamb pieces with tomato, onion and capsicum served with salad
£10.50
Shashlick Main Lamb
Boneless tender chicken or lamb pieces with tomato, onion and capsicum served with salad
£10.50
Whole Tandoori Chicken Main (4)
Spring chicken on the bone
£16.50
Half Tandoori Chicken Main (2)
£8.50
Haryali Chicken Tikka Main
Marinated with basil, mint and coriander
£9.95
Royal Tandoori Mixed Grill
Pieces of Chicken Tikka, Sheek Kebab, Tandoori Chicken served with nan & Salad
£13.95
Tuli Tandoori Grill
Pieces of chicken tikka, sheek kebab, tandoori chicken, king prawn, duck tikka, served with nan & salad
£16.95
Achari Chicken
Barbecued chicken or lamb cooked in specially blended house spices and special Bangladeshi pickle
Medium
£11.95
Achari Lamb
Barbecued chicken or lamb cooked in specially blended house spices and special Bangladeshi pickle
Medium
£11.95
Nagha Chicken
Boneless tender chicken or lamb cooked in specially blended spices and Bangladeshi chilli nagha in a thick sauce
Fairly hot
£11.95
Nagha Lamb
Boneless tender chicken or lamb cooked in specially blended spices and Bangladeshi chilli nagha in a thick sauce
Fairly hot
£11.95
Shasla Chicken
Boneless tender chicken or lamb pieces with tomato, onion and capsicum cooked in specially blended spices in thick sauce
Medium
£12.95
Rajdhani Chicken
Two piece chicken on the bone marinated, cooked in the tandoor added to specially blended spices shallots in a thick sauce
Medium
£12.95
Lamb Buna Biran
specially blended spiced lamb cooked with caramelised onions garlic and herbs in a very dry sauce
Medium
£11.95
Haryali Masala Chicken
Haryali chicken cooked in a mildly spiced creamy sauce with basil and mint
Mild
£12.95
Tikka Shali Chicken
Cooked with mushrooms, garlic, coriander and fresh lime
Fairly hot
£11.95
Tikka Shali Lamb
Cooked with mushrooms, garlic, coriander and fresh lime
Fairly hot
£11.95
Murgh Afghani
Breast chicken cooked in our house made sauce with onions, tomato and capsicum.
Medium
£11.95
Shatkora Chicken
Boneless chicken cooked in a medium spiced saauce and South bangladeshi vegetable (shatkora)
Medium
£11.95
Shatkora Lamb
Boneless chicken cooked in a medium spiced saauce and South bangladeshi vegetable (shatkora)
Medium
£11.95
Chicken Manchurani
Barbecued chicken diced in to very fine pieces and then fried and added to a specially blended house made sweet, tangy and slight sour sauce
£10.95
Joypuri Chicken
Chicken or lamb cooked green peppers and onions and a hard boiled egg with fresh herbs and spices in a medium sauce
Medium
£11.95
Joypuri Lamb
Chicken or lamb cooked green peppers and onions and a hard boiled egg with fresh herbs and spices in a medium sauce
Medium
£11.95
Chicken Jeera
Chicken prepared with cumin, onion and tomatoes
Medium
£11.95
Tava Chicken
Chicken or lamb cooked in house made spices onions and peppers topped with grinded cheddar cheese served on a platter
£11.95
Tava Lamb
Chicken or lamb cooked in house made spices onions and peppers topped with grinded cheddar cheese served on a platter
£11.95
Ginger Chicken Pepper Fry
A punjabi specialty, chicken cooked with fresh ginger, red and green capsicum in a hot spicy sauce
Fairly hot
£11.95
Murgh Masala
Pieces of tandoori chicken mixed with spiced minced meat, cooked with sultanas and almonds in a special prepared mild creamy sauce, served with fried rice
Mild
£10.95
Chicken Darzaling
Mildly spiced pieces of chicken tikka, cooked in a creamy sauce with almonds, honey, butter and mushrooms
£11.50
Pasanda Chicken
Tandoori flavoured chicken or lamb cooked in exotic creamy sauce with ground nuts and sultanas
Very mild
£10.95
Pasanda Lamb
Tandoori flavoured chicken or lamb cooked in exotic creamy sauce with ground nuts and sultanas
Very mild
£10.95
Gosht Kata Masala
Lamb marinated in special spices, cooked with onion, ginger, touch of garlic and gram masala
Medium
£10.95
Makhani Chicken
Pieces of barbecued chicken or lamb tossed in butter with cultural yoghurt fresh cream and almonds
Mild
£8.95
Makhani Lamb
Pieces of barbecued chicken or lamb tossed in butter with cultural yoghurt fresh cream and almonds
Mild
£8.95
King Prawn Makhani
Barbecued king prawns tossed in butter with cultural yoghurt fresh cream and almonds
Mild
£12.95
King Prawn Nawabi
Roasted king prawns, tomatoes, onion, green peppers cooked in a special medium house blended sauce
Medium
£13.95
Zinger King Prawn
King prawns cooked in fresh mushrooms tomatoes and green peppers in a sweet and sour sauce served on a platter
£13.95
Duck Masala
Pieces of marinated duck cooked in medium thick sauce with homemade spices
£11.95
Duck Rozella
Sour & hot, marinated in special spices, cooked with garlic, herbs & green chilli
£11.95
Duck Bhuna
Diced duck tikka, cooked in specially blended, in thick sauce
£11.75
Fish Bhuna
Fish delicately spiced in medium sauce
£10.50
Fish Jalfrezi
Fish with fresh green chillies, peppers, coriander, herbs & spices in fairly hot sauce
£10.95
Fish Chilli Masala
Fish cooked with fresh green chilli in hot & sour spices
Fairly hot & sour
£10.95
Prawns Curry
Medium spiced with sauce
£8.25
Madras Prawns
Fairly hot with spice
£8.50
Vindaloo Prawns
Very hot with sauce
£8.70
Bhuna Prawns
Spices with thick sauce
£9.50
Sag Prawns
Cooked with fresh spinach in onion
£9.50
Kurma Prawns
Mild curry cooked with fresh cream, coconut, almonds & sultanas
£9.50
King Prawns Korai
Cooked in traditional spices with fresh tomatoes and onions
£12.95
King Prawn Jalfrezi
Sauteed with tomatoes,onion & capsicums in medium thick sauce
£12.95
Curry Chicken
Chicken or lamb cooked with medium spices and sauce
Medium
£6.50
Curry Lamb
Chicken or lamb cooked with medium spices and sauce
Medium
£6.50
Madras Chicken
Chicken or lamb cooked with fairly hot spices respectively
Fairly hot & sour
£7.50
Madras Lamb
Chicken or lamb cooked with fairly hot spices respectively
Fairly hot & sour
£7.50
Vindaloo Chicken
Chicken or lamb cooked with very hot spices respectively
Very hot & sour
£7.75
Vindaloo Lamb
Chicken or lamb cooked with very hot spices respectively
Very hot & sour
£7.75
Chilli Masala Chicken
Cooked with fresh green chilli in hot and sour spices
Fairly hot & sour
£7.95
Chilli Masala Lamb
Cooked with fresh green chilli in hot and sour spices
Fairly hot & sour
£7.95
Kurma Chicken
Chicken or lamb cooked with fresh cream, coconut, almonds & sultanas
Very mild
£7.95
Kurma Lamb
Chicken or lamb cooked with fresh cream, coconut, almonds & sultanas
Very mild
£7.95
Kashmir Chicken
Chicken or lamb cooked with banana in medium spices and sauce
Medium
£7.95
Kashmir Lamb
Chicken or lamb cooked with banana in medium spices and sauce
Medium
£7.95
Dupiaza Chicken
Diced chicken or lamb cooked in medium spices with fresh onion
Medium
£7.95
Dupiaza Lamb
Diced chicken or lamb cooked in medium spices with fresh onion
Medium
£7.95
Bhuna Chicken
Cooked in specially blended spices in thick sauce
Medium
£7.95
Bhuna Lamb
Cooked in specially blended spices in thick sauce
Medium
£7.95
Korai Chicken
Pieces of tender chicken or lamb cooked in traditional spices with fresh tomatoes and onions, served on a hot iron wok (korai)
Medium
£8.95
Korai Lamb
Pieces of tender chicken or lamb cooked in traditional spices with fresh tomatoes and onions, served on a hot iron wok (korai)
Medium
£8.95
Rogan Josh Chicken
Chicken or lamb cooked with glazed tomatoes, green herbs & spices
Medium
£7.95
Rogan Josh Lamb
Chicken or lamb cooked with glazed tomatoes, green herbs & spices
Medium
£7.95
Jalfrezi Chicken
Chicken or lamb marinated with fresh ground spices and sauteed with tomatoes, onion & capsicums in medium thick sauce
Fairly hot
£8.95
Jalfrezi Lamb
Chicken or lamb marinated with fresh ground spices and sauteed with tomatoes, onion & capsicums in medium thick sauce
Fairly hot
£8.95
Methi Chicken
Diced chicken or lamb cooked in medium spices and methi leaf
£9.95
Methi Lamb
Diced chicken or lamb cooked in medium spices and methi leaf
£9.95
Ceylon Chicken
Cooked with fine coconut powder in fairly hot spices
Fairly hot
£7.95
Ceylon Lamb
Cooked with fine coconut powder in fairly hot spices
Fairly hot
£7.95
Mushroom Chicken
Cooked with mushrooms in medium spices & sauce
£8.50
Mushroom Lamb
Cooked with mushrooms in medium spices & sauce
£8.50
Sag Chicken
Cooked with fresh spinach, onions & capsicums dry flavour
£9.50
Sag Lamb
Cooked with fresh spinach, onions & capsicums dry flavour
£9.50
Tikka Masala Chicken
A wonderful combination of flavours-barbecued chicken or lamb cooked in mildly spiced sauce with fresh cream
Mild
£8.50
Tikka Masala Lamb
A wonderful combination of flavours-barbecued chicken or lamb cooked in mildly spiced sauce with fresh cream
Mild
£8.50
Garlic Chicken
Chicken marinated in spicy garlic flavoured thick sauce
Medium
£8.95
Garlic Lamb
Chicken marinated in spicy garlic flavoured thick sauce
Medium
£8.95
Pathia Chicken
Cooked with spices & tomatoes in a thick sauce served with pilau rice
sweet sour and hot
£10.95
Pathia Meat
Cooked with spices & tomatoes in a thick sauce served with pilau rice
sweet sour and hot
£10.95
Pathia Fish
Cooked with spices & tomatoes in a thick sauce served with pilau rice
sweet sour and hot
£11.50
Pathia Prawns
Cooked with spices & tomatoes in a thick sauce served with pilau rice
sweet sour and hot
£11.50
Pathia Duck
Cooked with spices & tomatoes in a thick sauce served with pilau rice
sweet sour and hot
£11.95
Pathia King Prawns
Cooked with spices & tomatoes in a thick sauce served with pilau rice
sweet sour and hot
£13.95
Balti Vegetable
Combination of balti spices, medium spiced served with nan
£8.95
Balti Chicken
Combination of balti spices, medium spiced served with nan
£9.95
Balti Lamb
Combination of balti spices, medium spiced served with nan
£9.95
Balti Chicken Tikka
Combination of balti spices, medium spiced served with nan
£10.95
Balti Lamb Tikka
Combination of balti spices, medium spiced served with nan
£10.95
Balti Prawn
Combination of balti spices, medium spiced served with nan
£10.95
Balti Cocktail
Combination of balti spices, medium spiced served with nan
£11.95
Balti Duck
Combination of balti spices, medium spiced served with nan
£11.95
Balti King Prawn
Combination of balti spices, medium spiced served with nan
£13.95
Tandoori Chicken Biryani
Flavoured tandoori chicken mixed with basmati rice and mildly spiced, fried, dressed with tomato and cucumber
£11.50
Tuli Mixed Birayni
A combination of chicken, lamb and prawns
£13.50
Mixed Vegetable Curry
Mixed fresh vegetables cooked with herbs in sauce
£3.95
Bhindi Bhajee
Fresh okra cooked with onions, herbs & spices
£3.95
Cauliflower Bhajee
Fresh cauliflower cooked in medium spices
£3.95
Bombay Aloo
Sauteed potatoes cooked in slightly hot spices with onions & tomato
£3.95
Mushroom Bhajee
Fresh mushrooms with onions cooked in medium spices
£3.95
Aloo Gobi
Fresh cauliflower & potatoes cooked dry with chopped onions & tomatoes
£3.95
Aloo Peas
Sauteed potatoes & peas cooked dry in medium sauce
£3.95
Dall Lentils
Lentils cooked in eastern style
£3.95
Tarka Dall
Lentils cooked with herbs and spices, flavoured with garlic
£3.95
Sag Bhajee
Fresh spinach cooked with onions in medium spices
£3.95
Saag Aloo
Fresh spinach mixed with potatoes cooked in medium spices
£3.95
Chilli Vegetables
Mixed vegetables cooked in medium spices
£3.95
Sag Chana
Fresh spinach cooked with chickpeas in medium spices
£3.95
Benjol Bhajee
Spiced aubergines and fresh herbs
£3.95
Sag Ponir
Fresh spinach cooked with Indian panir cheese
£3.95
Pilau Rice
Basmati rice in ghee flavoured with special recipe
£2.95
Peas Rice
Pilau rice fried with peas
£3.50
Special Fried Rice
Pilau rice fried with peas, egg & almond
£3.50
Mushroom Rice
Pilau rice fried with fresh mushroom
£3.50
Garlic Rice
Pilau rice fried with garlic
£3.50
Egg Fried Rice
Pilau rice fried with egg
£3.50
Mixed Fried Rice
Pilau fried with chickpeas, onion, & covered with omelette
£3.95
Ramsay Rice
Pilau rice fried with garlic fresh mushrooms and onions and lime
£3.95
Keema Nan
Stuffed with special mince meat
£3.50
Stuffed Nan
Stuffed with vegetables
£3.50
Peshwari Nan
Stuffed with nuts & sultanas
£3.50
Cheese Nan
Stuffed with cheese
£3.50
Paratha
Unleavened fried thick bread
£2.50
Stuffed Paratha
Stuffed with vegetables
£3.50
Plain Papadam
Eastern water crisp bread
£0.70
Masala Papadam
Spiced crisp bread roasted
£0.80
Raita Cucumber
Mildly spiced yoghurt with chopped onion OR cucumber
£1.75
Raita Onion
Mildly spiced yoghurt with chopped onion OR cucumber
£1.75
Contact Us
Find Us
19A London Street, Basingstoke, RG217NT
We deliver to
RG21, RG22, RG23, RG24, RG25